South Tyrol Weather Forecast

Today: Light snowfall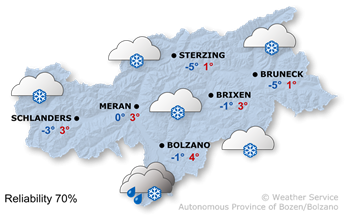 Cloudy sky with light snowfall moving in from the South during the day. Snowline rising in the afternoon. By the evening at the latest dry again everywhere. Maximum temperatures between 0° and 4°.
---
Next days Weather forecasts: Windy and cold
Saturday mostly cloudy with some isolated weak showers in the evening and the following night. Snowline around 1000 m. Slightly weather improvement on Sunday. In the valleys partly sunny and dry conditions with strong northerly winds. On the mountains possibility of very light snowfall. Monday sunny, but windy and cold. Also on Tuesday sunny weather, wind will calm down.