South Tyrol Weather Forecast

Today: Partly sunny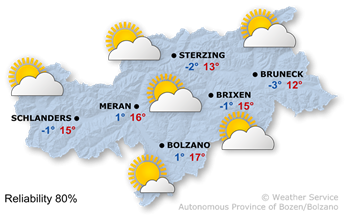 Partly sunny weather. Very weak precipitation are not completely excluded over the northern part of the territory. High values up to 12°/17°.
---
Tomorrow: Weather improvement
During the night some precipitations will be probable over the northern. Snowfall 2000/2400 m. During the morning the conditions will improve with sun. Daily temperatures will reach 10°/17°.
---
Next days Weather forecasts: Sun and clouds